I'm not sure if this issue is the same as Flexgate. It could be seen as Flexgate2. Basically affected models are MacBook Pro 2016, 2017, 2018 13 and 15" and the screen displays 5 pink bars and one black or white bar in various orders and this comes and goes depending on how much you open or close the lid of the MacBook. Intact screenshots and successfully connecting external display show that the problem isn't with the GPU, or display buffer. The screen works just fine at certain angles (after some fiddling) so my laptop is still more or less usable and I am currently writing this post on the device in question. My device is a 13" Mid 2017 MacBook Pro. The fact that the screen works perfectly fine at a certain angle points to one thing and one thing only - the cable.
The issue can be fixed by replacing the entire display assembly or by replacing the cable by totally disassembling the display as seen in this video. https://www.youtube.com/watch?v=bYtDVjYNxig
I can't verify concretely that this works for this specific issue also however.
Certain users have said they had their MacBooks repaired for free by taking them into an Apple store or an Authorised Reseller in New Zealand under consumer protection.
Others have not had the same success perhaps due to the staff they got, or simply not knowing a free repair was a possibility. I personally called Apple support and they more or less treated the issue as any other problem and although saying they had heard of something like it did not consider it a wide-spread issue. They simply advised to take it in to be looked at. My better judgment tells me the Authorised Service Provider would just go ahead and perform the repair at whatever price a new screen costs so to me the only option is going into an Apple store where there is someone with authority in warranty matters.
Either way I think customers should be able to get these repairs no questions asked. More so problems like these should be ironed out in QA and not end up in the consumers hands at all.
Here are additional videos and forum posts with hundreds of comments with people having the same issue: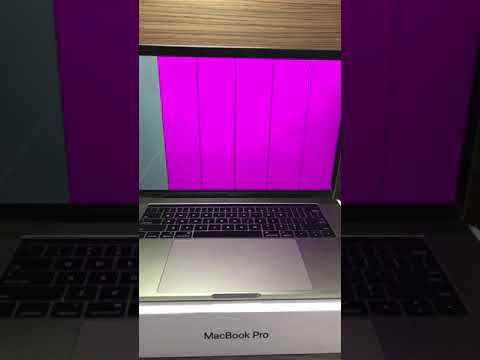 similar

This could be caused by the pinching of the cable as the screen changes as the screen is opened more or less, however rather than the screen turning off it appears the signal is being distorted causing the screen to look like it does in the pictures. As the screen isn't turning off completely this could be due to another defect in the display but I would think it is the cable. Nevertheless it is a widespread issue affecting 2016, 2017 and 2018 MacBooks anywhere from months to years old happening apparently randomly without any external damage occurring.
Apple should add this to their list of known design faults and create a warranty repair program specific to this issue so that users can feel good about getting it repaired hassle free and free of charge.
My best bet is this is a Flexgate 2 where the problem of the flex cable/ribbon being pinched presents itself in a different manner.
Here is a petition:

I don't know if it needs its own petition but the 2017 and 2018 MacBook Pros definitely need to be included in a warranty program like the 2016 models.